Back Atchoo
Mon, Apr 10 2006
Out back there's a cherry tree in a large planter which, at some point, got cut back rather mercilessly. In the winter, it resembles nothing so much as one end of an outdoor clotheslines or an upside-down, enormous chicken's foot growing out of the patio.
In the spring, however, it blooms out softball-sized pompoms of white flowers, some of which—if the squirrels don't catch on—might become cherries.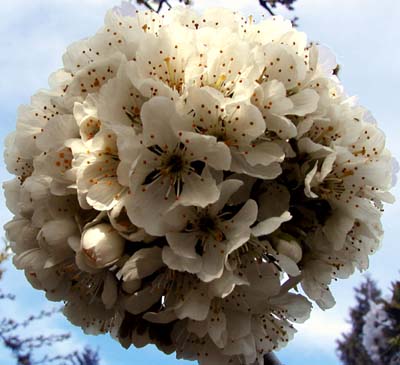 A pompom of cherry blossoms
There's also a great deal of very mature, very happy, very assertive spurge (aka euphorbia) milling about. Loitering. Trying to look casual. This is harder to do for some spurge than others—when you're a plant over six feet tall, it's hard to be inconspicuous.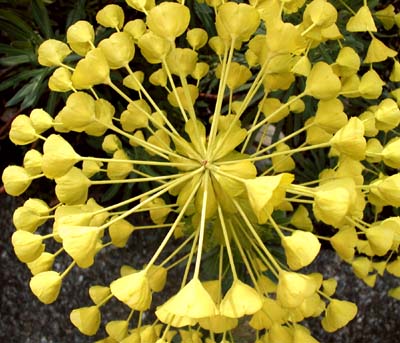 Euphorbia blossom
The local hoodlums are probably Wood Spurge or Cypress Spurge…but it's tough to say because many of the local specimens far exceed the species' listed maximum heights. Euphorbia is one of those weird plants that's been around so long and in so many places that many euphorbia are unrecognizable as such. Some look like cacti; some look like weeds; some look like weird fungi; some look like plants you give to folks around the end-of-year holidays. The main thing they have in common is poisonous latex. Oddly enough, I've never noticed it irritating my skin, and I'm allergic to everything.