IKEA, I Saw, I Conquered
Wed, Aug 22 2007
One irony of the Google Age is that you never know what pages on a silly little personal Web site like this one will prove to be popular. According to my Web logs, rants on Trader Joe's, the Volkswagen GarageMaster guitar, and bass string construction have proven to be evergreen favorites amongst Web surfers the world over. But nothing truly tops last year's musings on the 2007 IKEA catalog, which—right on its cover!—said Seattle customers can expect to pay 25 percent more for merchandise than the rest of the country.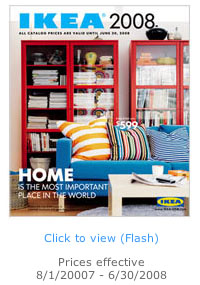 Web version of the 2008 IKEA catalog, along with the dates prices are in effect.
This year, IKEA has realized publishing substantially different prices for the same merchandise on the covers of its catalogs is not a formula for success. The print edition of the 2008 catalog delivered this month to Seattle area customers features the same front-cover pricing promoted on the national edition: $599 for a "Karlstad" sofa.
Fortunately, there's another funny thing: if one visits IKEA USA's online catalog, we're dutifully informed that prices are in effect from August 1, 20007 (emphasis mine) until June 30, 2008. Yes, it's a silly typo, but it makes me feel just that much better!
I noted last year that I tend to flip through catalogs and other booklets while eating breakfast—they're light, sometimes interesting stuff that you can step away from at any moment. With the IKEA catalog, I'd find myself scrutinizing the room shots for funny details because, let's face it, I'm not really a likely customer for their sofas, desks, cabinetry, or kitchenware. Maybe some storage stuff one day. We'll see.
But, aside from the consistently-priced cover, this year's IKEA catalog is a disappointment in another way: books. Although I admit to feeling a bit giddy this year when I saw this year's cover featuring two jam-packed bookshelves, alas, neither the cover nor the small number of interior shots make for much fun in bookshelf scanning. Sure, there are a few items of interest: pages 14 and 15 are stuffed with books, and last year's IKEA über-author David Baldacci's Till Siste Man turns up again there (along with the 1994 yearbook), plus a few other legible Swedish titles and John Grisham's name hovering over a doorway. (And I've gotta wonder of Tony Stone Images paid to be one of the only recognizable items on the catalog cover.) So the same photographers and studio probably did the 2008 catalog setups because, well, they're still using the same remaindered books from the 2007 catalog as props. Nonetheless, this year's IKEA catalog features fewer bookshelf shots overall, and many of the photos seem to have been deliberately blurred or focus-pulled so titles aren't quite as easy to pick out as last year…or maybe my copy just isn't printed as cleanly. I did notice that page 4 is a reversed shot of the same setup used on the catalog cover.
So, thanks a lot, IKEA, for taking the fun out of my breakfast reading. Now I'll just have to wait for the next Elderly Instruments catalog before I have any good breakfast page-flipping.