One Bright Spot
Thu, Jun 25 2009
Acquaintances know that I've had a thing for epiphyte cacti for years—most folks think it started with the original so-called Monster Plant, and Epiphyllum chrysocardium cactus native to southern Mexico that…well, it more closely resembles some sort of palm or fern than a cactus. At one point I'd managed to grow the Monster Plant out to a wingspan of almost six feet, but it doesn't seem to have coped well with the Seattle house: I have another chrysocardium and some cuttings that are ootzing along, but not exactly thriving.
But the fascination kind of started with clippings from another species a friend gave me years ago: while I was rooting a large clipping, it happened to put out an enormous orange-red-and-pink flower: like all epiphytes, the flower only lasted a couple of days, but it was amazing. That particular plant is still with me, but I've never managed to get it to bloom again; however, this year, for the first time, one of its descendants (from another clipping) put out a bloom, the first I've achieved on my own: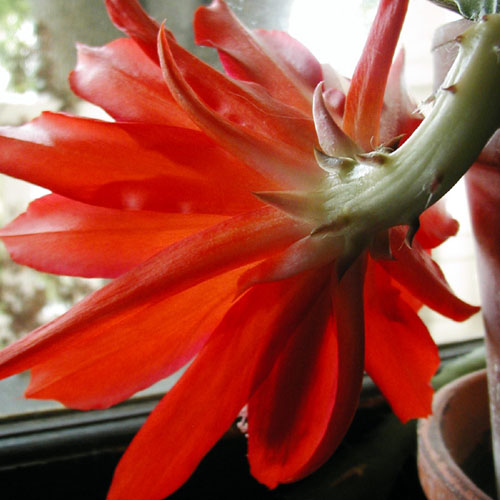 I love these plants in part because they're…well, they kinda look like alien life forms that could have grown off the cover of some 1950's sci-fi pulp magazine.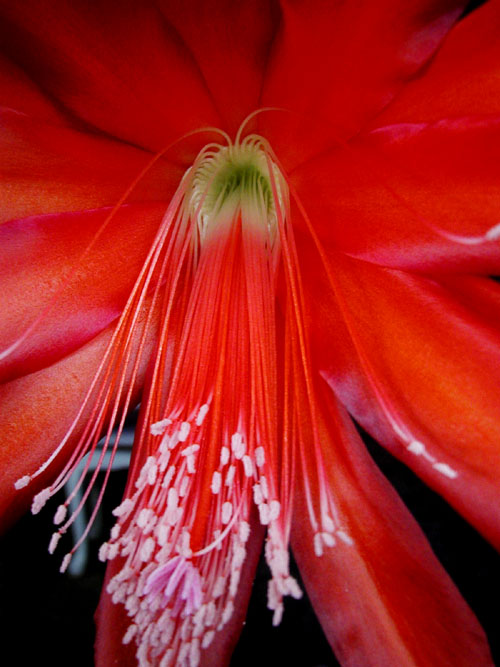 One of these days, I hope to get the Monster Plant to bloom—they're supposed to have immense white flowers with gold centers.