The People Under the Stairs
Mon, Oct 31 2005
Today, of all days.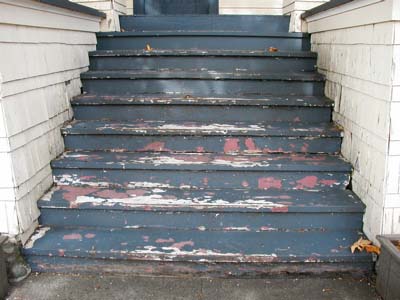 Underneath it all, the front steps
prove to be all-American.
On moving into the new digs earlier this year, a few maintenance items were in plain need of attention. One was the front steps leading up to the house: they needed to be repainted and water damage was starting to take a toll, particularly on the risers. The home owners were more than aware of the issue, but it being February, cold, and rainy, it made sense to defer work until spring or summer when weather would be more conducive to carpentry and painting. In the interim, I found the increasingly patriotic colors of the revealed paint layers amusing: blue, white, and red were evident by the Fourth of July.
Spring turned into summer; summer dragged on; everyone was quite busy. In September, two sets of contractors appeared to examine the steps and send estimates. A few days later, email arrived from the homeowners (they're out of the country) expressing dismay at the bids. Were the steps unsafe? Had they changed to much since they'd last seen them in the spring? Could I send some pictures? All they'd planned to do was perhaps replace a few boards and repaint as a hedge against redoing the exterior paint in the semi-near future, and maybe get some non-slip material on the treads. They weren't looking to construct a new, scientifically rigorous, unassailable bastion of weather-worthy scaffolding!
Despite the water damage to the lower risers—none of which are structural—the treads and underlying framing to all appearances were quite sound: I didn't see any need to go all out and reconstruct the whole thing. So the home owners did a smart thing: they contacted the next-door neighbor Walter, a good guy who happens to be a contractor and who had replaced the bathroom flooring last winter. They asked Walter what it would take to get the stairs into shape for a little while, and his estimate was much more amenable—but now it was October, which in Seattle means Rainy Season will continue through, oh, May of 2006.
However, Walter was game to try to get the work done quickly, and started today. Halloween.
When Walter removed the damaged risers, quite a menagerie greeted him.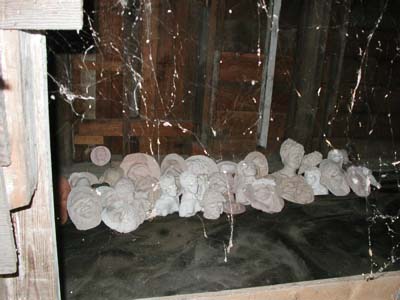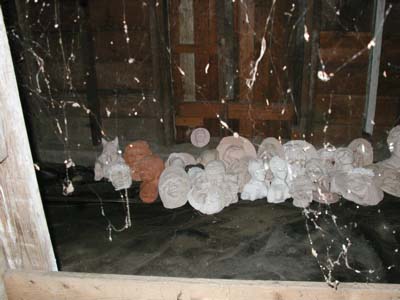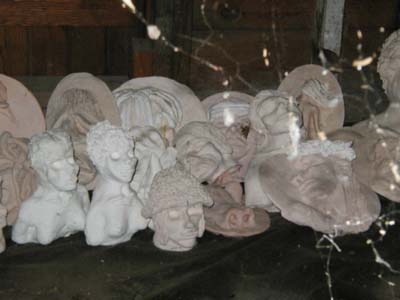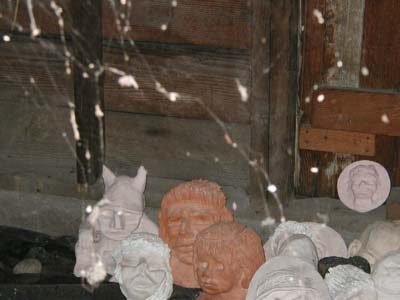 No idea what the story behind these might be; I can only assume a previous owner of the house sculpted and fired them, but never glazed them. (I think there's a single, similar item in the home's basement.) But why these would be sealed up with the spiders and darkness, hidden away under the front porch and stairs (for how many years?) is a complete mystery.
Nor do I know why none of the figures have eyes.
Yep. Today, of all days. Halloween.