All That You Leaf Behind
Fri, Nov 02 2007
The gigantic maple tree in the front yard means I now view autumn with a sense of dread: sure, I enjoy the newly-brisk mornings, the changing of the seasons, and the autumn colors…but I'm not so keen on all the yard work generated by that one tree. Not just the front yard, oh no: the front and side yards of the neighbors as well. And the sidewalks. The street. The yards on the other side of the street. The storm drain on the corner. The storm drain on the other corner. Heck, even the parking lots of nearby businesses.
Rake, rake, scoop. You can only tell yourself it's healthy exercise for so long.
The volume of compressed maple leaves (yes, I jump up and down in the containers!) easily exceeds what the city's yard waste service will take away every other week without charging an extra arm and a leg. So I pile up the surplus leaves against the sides of the porch where the wind won't blow them around (much) and where they aren't smothering plants. Last year, autumn leaves were going out with the yard waste clear into January.
But, autumn has its compensations: this is the sight out a dining room window on a sunny morning: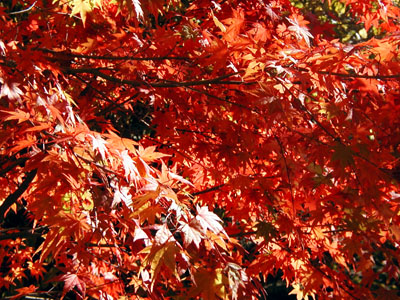 Red maple leaves
Up close, the colors get pretty spectacular: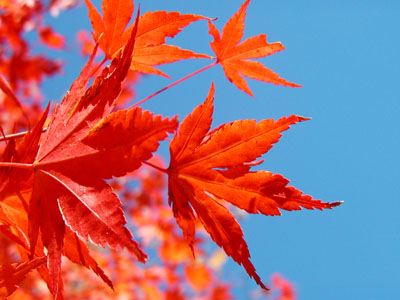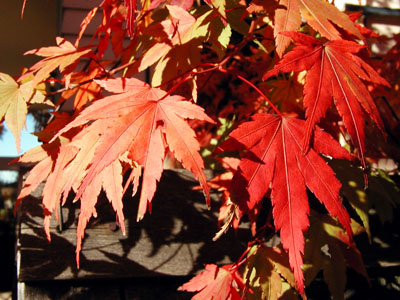 Even the big leaf maple has its moments: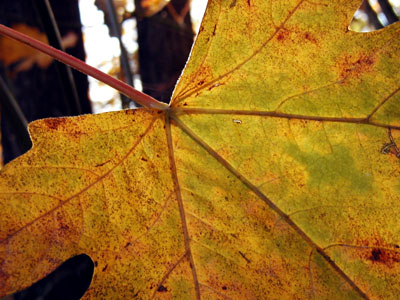 …and in autumn, signs of new life and growth still poke out around the edges.