Happy Nevada Day
Tue, Oct 31 2006
Halloween is officially Black Kitty Day around here, during which we are all bossed around mercilessly by Wednesday, catering to her whims and, unfortunately, perpetually failing to live up to her expectations. (Although, that doesn't make Halloween much different from any other day.)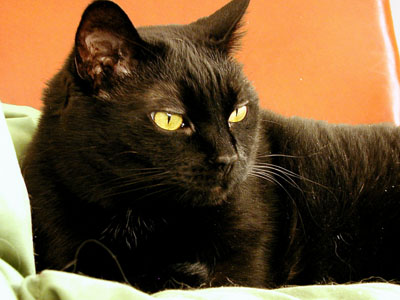 Wednesday reclines on her (upstairs) throne
It wouldn't be fair to publish a picture of Wednesday without providing images of her goofy brother Pugsley: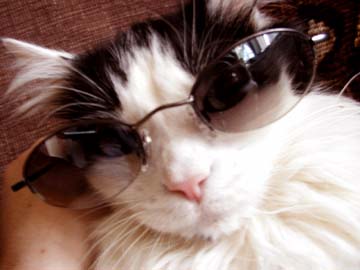 Pugsley practices his rock star look
…and our handsome prince Abhijit: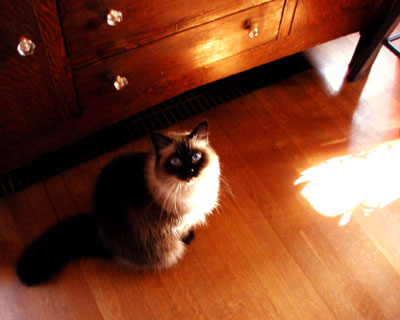 Which do you think is more handsome—the sunbeam, or
me?
Of course, to me, Halloween is just another name for Nevada Day. Whoo hoo! Yes, Nevada was admitted to the union as the 36th state on October 31, 1864. (And I know that because Mr. Gandolfo put it on tests I took in both 6th and 7th grade.) Nevada Day was a state holiday beginning in the early 1930s; as kids we were aware that Halloween and Nevada Day coincided, but we mainly appreciated that we got out of school on October 31st. Halloween was obviously much more important than Nevada Day (costumes! candy! running around at night!), and the day off was to get your outfits and haunted houses ready.
Years later, I would be startled to learn children in other states did not get Halloween off from school. Zounds! What poor, deprived souls, to be raised in such cultural backwaters!
Since my day, naturally, Nevada has messed everything up, resolving back in 1999 or 2000 to celebrate Nevada Day on the last Friday of October (whatever date that might be) rather than strictly on October 31st. That way folks can get a three-day weekend…but kids don't necessarily get Halloween off from school.
Since the mid-1950s or so, Nevada Day has meant a parade Carson City, the state capital. The parades and festivities tended to have printed programs. My favorite is 1968—sums up the can-do get-to-the-Moon spirit pretty well. I think the 1985 one is the year I got conned into helping build a giant papier mâché ichthyosaur for a school float. Why an icthyosaur? It's the state fossil! (Oh, the indignities of youth.)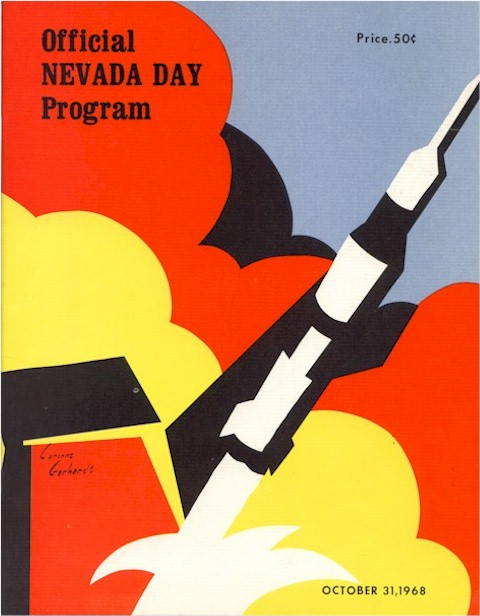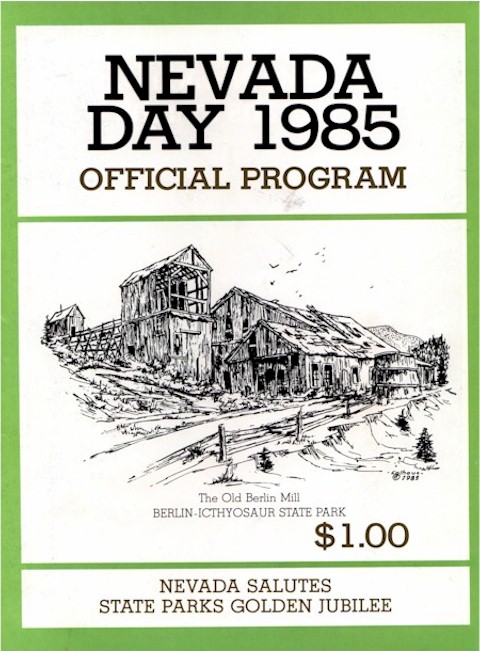 Nevada Day program covers, 1968 and 1985
Halloween is also a day we remember the dead. I understand Mr. Gandalfo—Mr. G to his students—died of cancer in late October, 2005. He was my sixth grade home room teacher, and in seventh grade I had him for Nevada History—a required course. He was one of my most influential teachers, helping introduce me to Tom Sawyer, ancient cultures, the notion of social history…and the idea that not misbehaving once in a while might be bad for my grades. He once marched a class of us through seven feet of snow into a meadow in the Sierras; when we got to the middle, he stopped, turned, and said to the exhausted kids, "So that wasn't easy, was it? When the Donner Party was in this field, the snow was twenty-two feet high. Think about that." I still do, Mr. G.